Today Mom and Dad came home and said they had a story. Not just any story, but a good story, a REALLY good story. They saw something they had never seen before. Naturally that was pretty intriguing! Can you guess what this is?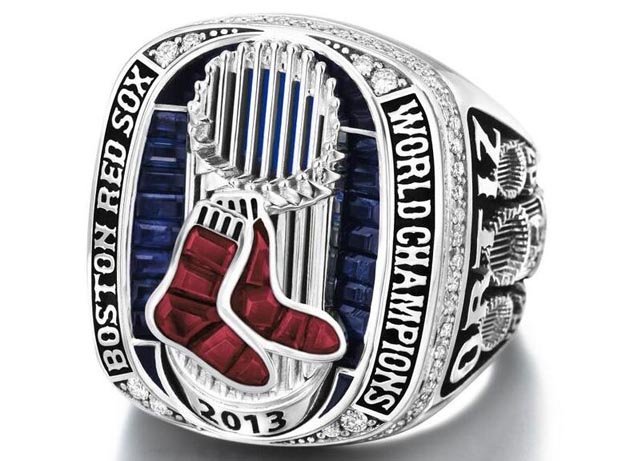 If you are still unsure, it's a 2013 Boston Red Sox World Series Ring.
Let's start at the beginning (a very good place to start so they say). Mom and Dad headed to church for confession on Good Friday. They wanted to go before Easter, but the doors to the church were locked. They started back towards the car, but were stopped by an older gentleman who asked "Do you mind if I tell you how much I love your family?" Dad (being a very unassuming person) didn't mind at all. Go figure.
They talked for a bit and the man introduced himself as Joe McDonald. Mr. McDonald told several different stories. One was about being a bat boy for the Dodgers.  He told another about his part in the Sparky Anderson and the Pope story. See Mr. McDonald was the general manager for the Detroit Tigers, so he and Sparky were "like this". That's an exact quote if you were wondering. He also told how he was in the opposition dugout when Enos Slaughter spiked Jackie Robinson's leg at first base (and his take on the incident). Rest assured future blog posts will convey these stories. Mr. McDonald was in hurry since he had to go to a game in few minutes. He's the Florida scout for the Boston Red Sox, hence the hurry.
Finally, I come to the point. Before he left Mr. McDonald showed Mom and Dad the ring on his hand and it looked like the one pictured above. Yep, it was a 2013 World Series ring. Besides that ring he's earned four other World Series rings, but he wears them at different times. Probably doesn't wear them all together in order to help facilitate arm movement. Those are big rings!
Mr. McDonald said he fist bumps with Nicholas after Mass often. Funny part is Nicholas didn't realize he was fist bumping a World Series ring. Or possibly many World Series rings.
More to come…